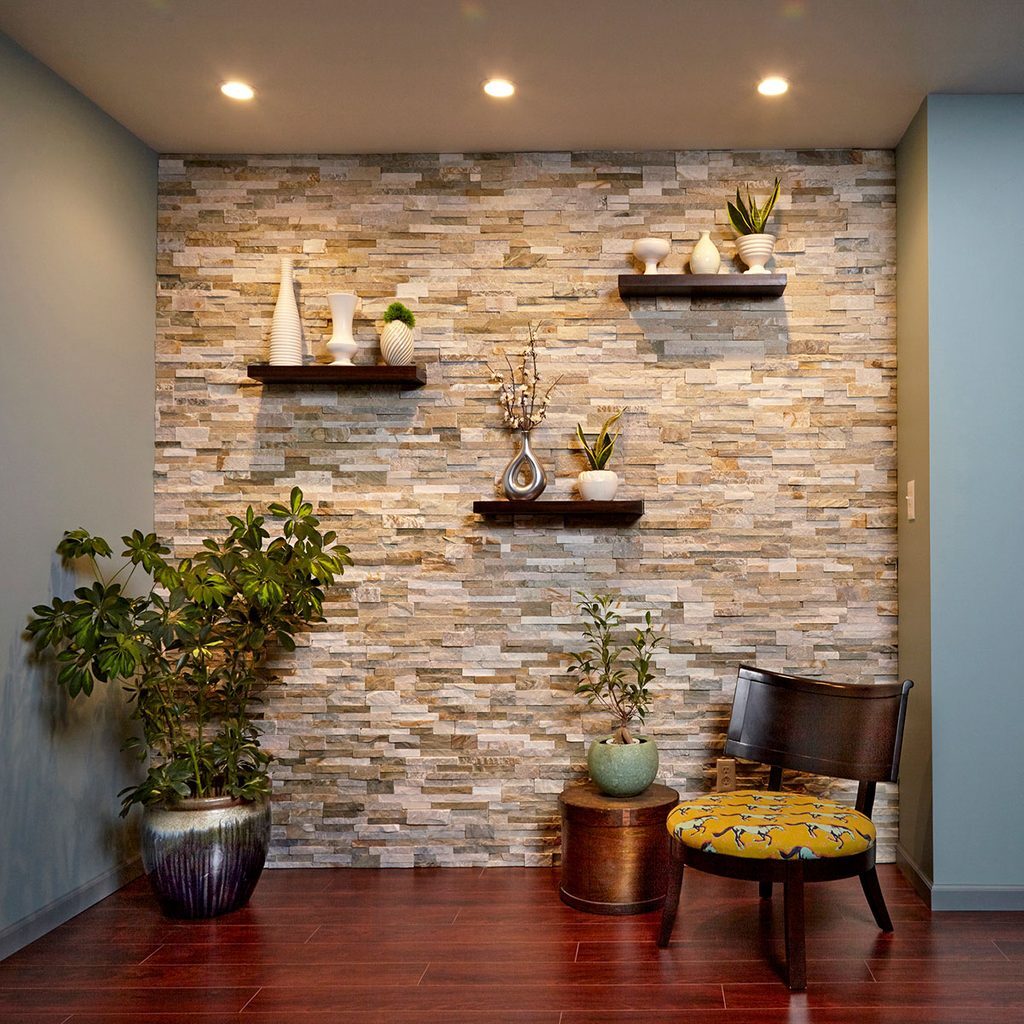 If you are considering a change to your interior décor to illustrate a modern look and feel to your home, you could consider natural stone for a few options. The look of natural stone is timeless – it can provide a neutral background, an enhancement, or a showcase centerpiece. It all depends on the delivery. Here we have uncovered a few ways to add a modern look to your home. 
Add a stone accent wall. A contractor will be able to guide you to which walls can and cannot handle the weight load in your home, and offer guidance on the type of stones that you are looking for. We like the use of sandstone on accent walls, shown in the photos.
Incorporate accent stones into flooring. This bathroom photo showcases river rock around the bathtub. Not only does it look nice, but it also serves a purpose aesthetically to bring the room together, so the bathtub does not appear floating in the space. Stones and natural surfaces can bring a room to life. A special touch to an entranceway, patio, and more could be just the extra unique look you wanted that will have you looking down and admiring the favorite part of your home time and again.
Change out your countertops from a matte finish and hone them to a shiny luster. This is one of the services we provide, and we have found several customers in the Lowcountry switching to a smooth and reflective surface that instantly changes the look of a room. There are many types of natural stone that can accept this type of finish application, call us for a consultation to discuss your countertop material potential.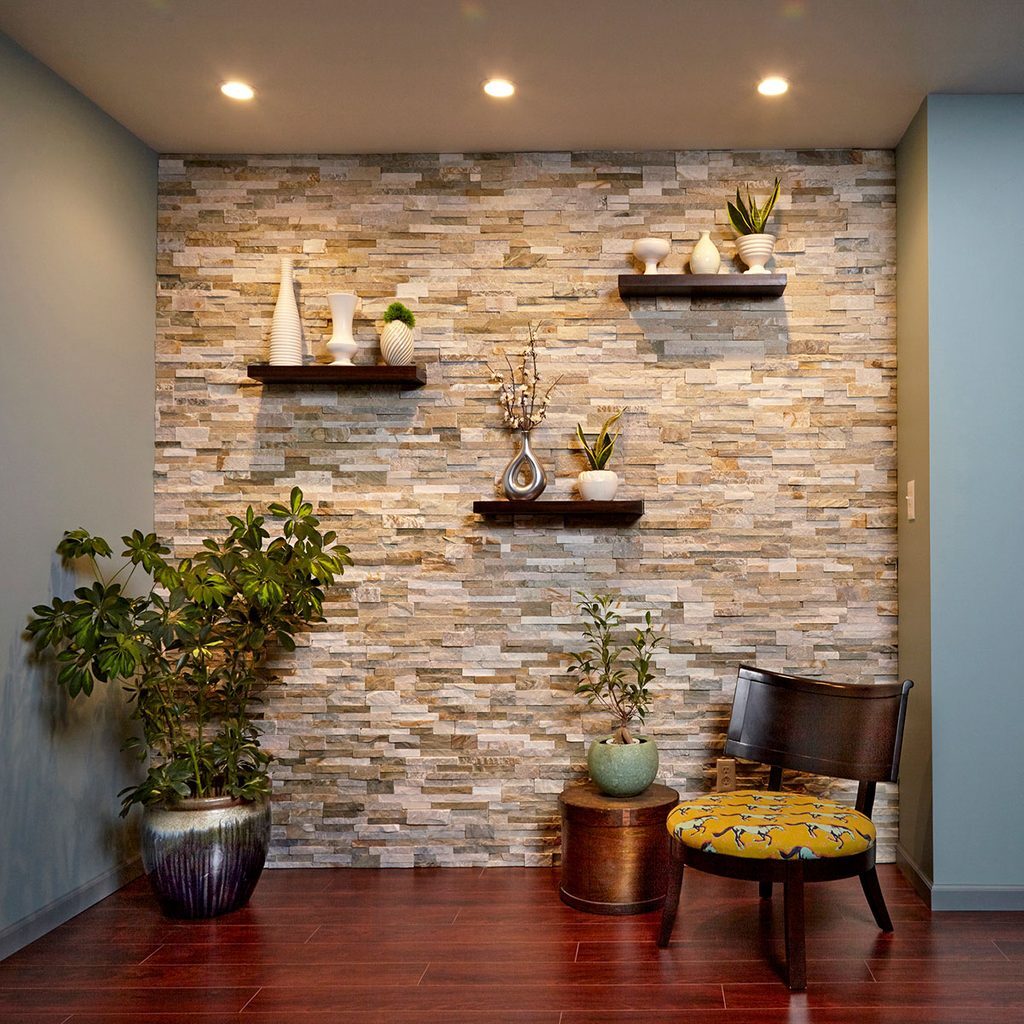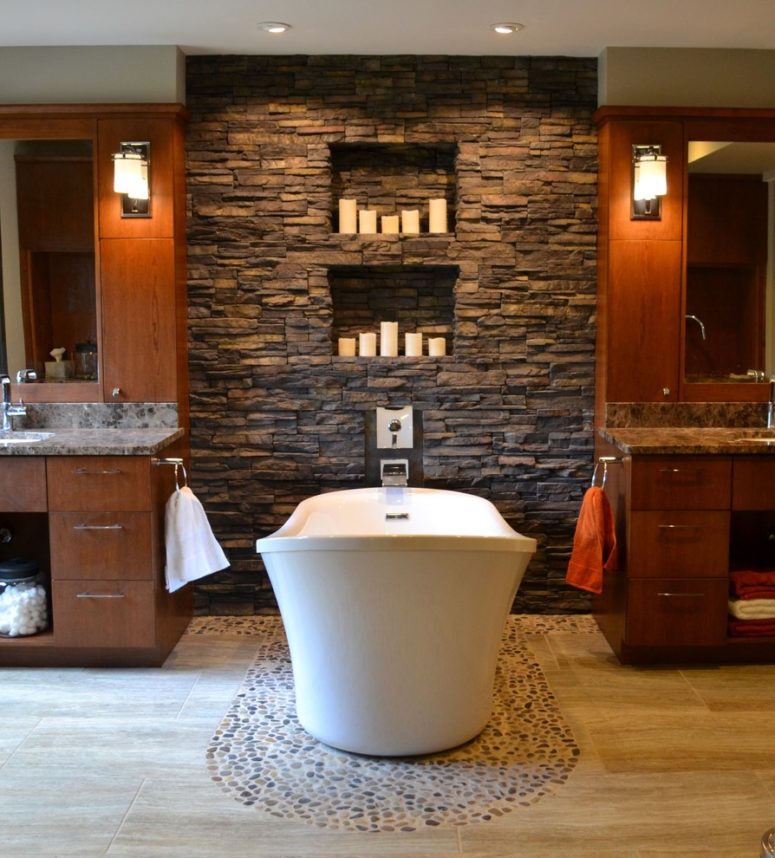 Be eco-friendly and repurpose. Maybe you have a favorite tile layout in the kitchen, and it would look better in the guest bathroom. Perhaps you have collected a few tiles from your childhood home and would like to incorporate them into your own. Think about creative ways to recycle current building materials and have them serve a purpose again.
Natural stone can add elegance and a modern flair to your home if you can find ways to harmonize these materials with your current living spaces. Where can you see space for natural stone in your home? 
There are many DIY how-to tutorials online that can show you how to enhance your home with natural stone products. We like the tutorial on how to achieve the living room wall shown here.